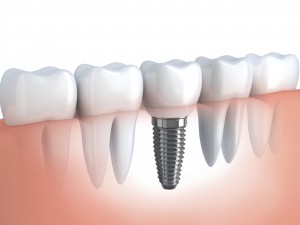 Even if you've been "managing" with one or more missing teeth for some time, you should consider tooth replacement. Just one missing tooth can lead to a number of concerns, including shifting teeth and consequently an improper bite; difficulty chewing and speaking; and of course the appearance of your smile. While there are a number of tooth replacement options, perhaps the best is a dental implant. With dental implants from Generations Dental Care in Concord, NH, you can complete your smile and avoid long-term problems.
Other tooth replacement options, such as bridgework or dentures, only replace the crown of your missing teeth. Dental implants, on the other hand, replace the crown and the root. By replacing the root as well, a dental implant offers greater stability. Furthermore, the "root" of the implant stimulates the jaw bone, thereby averting bone deterioration and the associated facial sagging. And in fact, dental implants can be used to tightly secure bridgework and dentures, so they don't slip.
Dental Implants in Concord, NH
The first step in your procedure requires the dentist to perform a minor surgery to implant a titanium post in the bone beneath the open socket of your missing tooth. This post serves as the "root" of your new tooth. Over a few months of healing, the post and surrounding bone tissue fuse together to create a solid foundation. Most patients wear a temporary crown while they heal. In the meantime, your permanent crown will be fabricated in a dental lab. Once healed, you'll return to Generations Dental Care for your custom-designed crown to be cemented into place.
Call Our Office Today
If you're ready to replace your missing teeth with the most lifelike tooth replacement, then call Generations Dental Care in Concord, NH, and ask about dental implants. We also serve patients in Penacook, Bow, Canterbury, Chichester, Pembroke, Manchester, Hooksett, Boscawen, Epsom, Hopkinton and Loudon.