"I've been bringing my 2 year old daughter there for her routine check-ups since she turned 1 and we couldn't have asked for a better experience! She has zero fears about going to see the Dentist since we started her at such a young age! My husband also completed his Invisalign treatment there and we are so thankful that they were able to straighten his teeth and give him a healthier smile in just a few short months! This office and all of the staff we encountered were all-around incredible for our routine dental care, and orthodontic needs! This is the place for families!!!"
Amanda, Concord, NH
"I had my Invisalign treatment at Generations Dental Care and I am beyond happy with the final result ! The amount of knowledge and information given during the whole process was amazing and very helpful. All of my questions were answered to the fullest and in a timely manner. The initial visit to get all the records/information was FREE as well as the overview appointment with the Dr to see what the treatment would entail! Once I got to see what my treatment would look like I then was able to met with one of the lovely financial coordinators to go over cost/insurance and scheduling! Everything was seamless and I couldn't be happier! I would highly recommend Generations Dental Care for anyone who is thinking about going through Invisalign!"
Christina, Concord, NH
"The staff and the commitment at Generations Dental Care is exceptionable. Having Invisalign done was probably one of the best decisions, I've made. Not only did I get rid of several space issues with my teeth it also made me more confident and happier to see a perfect smile. Hands down I would highly recommend this office for Invisalign, as well as any dental work you might need!"
Krystal M., Concord, NH
"If I could give them more than 5 stars I would! It's honestly the Disney World of Dentistry here in Concord. The entire staff is always helpful and go out of their way to assist you however they can. I started going here because it was close to my work and they offered Invisalign. My first impression walking in, was WOW....then I had this sinking feeling I was going to be ripped off to help pay for the wow factor...NOPE! Not once have they suggested I have work done that I didn't need. I needed sealants and they were able to get them at no cost to me. They are over the top in the best way. Dr. Stetsyuk is down to earth, honest and enjoyable to look at. I couldn't recommend anyone better."
Emily M., Concord, NH
"Not only is this by far the best dentist I've ever been to, but this office tops the quality of any healthcare provider I've ever been to. I've been a patient for the last year and I'm so thankful to have found this office. My teeth have never been in better shape. I get a cleaning every three months and I've both started and completed invisalign during my year as a patient. The staff are the kindest, warmest, and most gentle with my teeth, and they always make me feel like I'm at home. Dr. McCann gives me the most comprehensive exams of any dentist I've visited and she pays clear attention to every detail of her work. I appreciate this office so much, and would highly recommend them to anyone! If I could give more than 5 stars I would."
Megan F., Concord, NH
How Much Does Invisalign Cost?
The cost of Invisalign depends on how many aligners a person needs and if they require any extra attachments to make their treatment effective. In general, though, the total price of Invisalign is in the same ballpark as traditional braces. Oftentimes, insurance companies are even willing to cover part of the cost. We're also happy to help you apply for low-interest financing so you can break up your bill into manageable monthly chunks. When you come in for your consultation, we'll look at some specific numbers with you so you can decide whether there is room in your budget for Invisalign.
Additionally, we're proud to have limited-time special offers on our Invisalign services so anyone can afford a straighter smile! Be sure to follow us on social media to catch our latest Invisalign specials!
Invisalign FAQs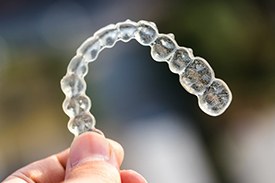 Choosing how to achieve a straightened beautiful smile is a big decision, so it's natural to have some questions that need answers before you're ready to commit to a treatment plan. At Generations Dental Care, we always want you to feel 100% confident in whichever of our services you choose. That's why, for your convenience, we've gathered some of the most common questions we get about Invisalign below so you can learn more. If you don't see the information you're looking for, just give us a call and we'll be happy to help!
How Long Does Invisalign Treatment Take?
The length of every patient's Invisalign treatment is different and will depend on the severity of your orthodontic concerns. Our doctors can give you a more confident estimate after your consultation, but most adults can expect to use Invisalign aligners for about 12 months on average as long as they wear them consistently and for 22 hours or more each day. This is a definite improvement over traditional braces, which usually require multiple years at a time to be completely effective.
Who Is a Good Candidate for Invisalign?
Your Concord cosmetic dentist is the best person to help you determine whether you are a candidate for Invisalign. While this treatment is right for many people, you may want to look into other orthodontic treatment options if:
You suffer from severe tooth misalignment or other serious orthodontic problems. Invisalign is capable of correcting a wide range of issues, but if the alignment problems in your mouth are extreme, metal braces might be a better option for you.
You're worried about compliance. It takes a measure of self-discipline to wear Invisalign the recommended amount. If you think you may forget to wear your aligners, or if you think it would be too much of a hassle to remove them during meals, this treatment may not be right for you.
Your mouth is still developing. Young children are not candidates for Invisalign because their jaws and teeth are still maturing.