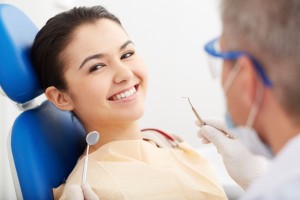 Root canal therapy is the most effective treatment used today to preserve natural teeth and prevent decay from causing further damage to the jaw and surrounding teeth. This common procedure can also help alleviate persistent pain caused by decay deep down within the tooth. At Generations Dental Care in Concord, NH, our team of dedicated doctors and specialists offer root canal therapy in a warm, welcoming environment that helps you feel comfortable at every visit.
How Do I Know if I Need Root Canal Therapy?
Only an experienced, skilled dentist can definitively determine the need for a root canal treatment, but there are some signs that you can watch out for at home. Pain in a tooth or in the gums is typically the sign of a problem that should be assessed by your dentist, but not all deep dental decay causes discomfort. If you notice a toothache that persists even after you have brushed and flossed your teeth, it is important to see our doctors as soon as possible for evaluation.
Other signs that a tooth may require root canal therapy include redness or inflammation in the gum tissue near a particular tooth and discoloration of the tooth itself. Decay that is visible from the outside may present itself as a dull gray color through the outer layer of enamel.
If root canal therapy is deemed necessary, we'll make sure that you are completely comfortable before, during, and after your procedure. The entire area will be numbed so you won't feel any pain. The diseased pulp within the affected tooth will be removed and the cavity will be thoroughly cleaned. This cavity will be filled and a crown will be placed over the tooth. As with any of our other procedures and treatments, we always welcome any questions or concerns you may have so that we may address them in a way that makes you feel comfortable.
Schedule Your Visit Today
If you suspect that you or anyone in your family may be suffering from tooth decay or an injury to a tooth, contact our office right away to schedule an appointment. Our extensive array of general, restorative, and cosmetic dentistry services – including root canal therapy – help you achieve and maintain optimal oral health that lasts a lifetime. Our conveniently located office in Concord, NH also proudly serves patients in the surrounding areas, including Loudon, Boscawen, Epsom, Pembroke, Penacook, Canterbury, Manchester, and beyond.