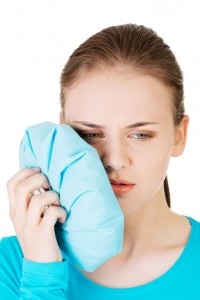 Do you often wake up in the morning with a sore jaw and a pounding headache? Are your shoulders and neck often stiff and achy, but you can't figure out why? It is possible that you are suffering from a condition called temporomandibular Joint disorder, or TMJ disorder. At Generations Dental Care in Concord, NH, our experienced team of doctors offers a variety of general dentistry solutions, including TMJ therapy.
The Importance of TMJ Therapy
The temporomandibular joint is the joint that connects your lower jaw, or mandible, to your cranium. When these joints become irritated due to injury, bruxism (teeth grinding), or repeated clenching of the jaw, the patient experiences a variety of undesirable symptoms, including:
Recurrent migraines
Pain and stiffness in the neck, shoulders, and jaw
A sore, throbbing jaw
A popping or clicking sound when the jaw is opened and closed
Facial pain
Tinnitus, or ringing in the ears
Over time, untreated TMJ disorder can result in gradual damage to the muscles and ligaments of the jaw. Fortunately, TMJ therapy at Generations Dental Care can help. Our doctors will take the time to talk with you about your symptoms, as well as explain our treatment options to determine which service would best suit your individual needs. We can provide you with a customized oral appliance that helps to alleviate tension and pressure, allowing you to get a restful night's sleep without any of the pain caused by TMJ disorder.
Schedule Your Consultation Today
If you think that you are a loved one is suffering from the effects of TMJ disorder, contact our office today to schedule your consultation with our experienced doctors and staff. We look forward to helping you finally find lasting relief from the pain associated with this common condition and moving on with your daily life in peace and comfort. Our family-friendly office in Concord, NH proudly serves patients from throughout the surrounding areas as well, including Manchester, Epsom, Loudon, Canterbury, Hooksett, Bow, Pembroke, Boscawen, Penacook, Hopkinton, and beyond.