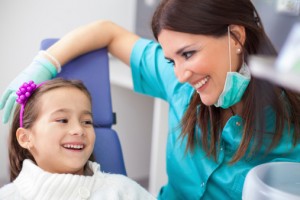 Your children are your priority and your children's teeth are our priority at Generations Dental Care in Concord, NH, where children's dentistry is practiced with gentle care. Just like adults, children should see the dentist twice a year, too. At Generations Dental Care, we recommend that you begin bringing your child to the dentist around the age of three. At that age, they are likely capable of sitting in the dentist's chair for the brief time we'll need to conduct an exam. Of course, if there is something that concerns you, then please bring them earlier.
Children's Dentistry: The Foundation of Good Oral Health
Actually, your child's dental health begins at home with you. Did you know that you can help your child avoid cavities as they grow? First, if your child uses a pacifier, never "clean" that pacifier in your mouth. Likewise, don't share eating utensils with your children. When you do, you may be transferring decay-causing bacteria from your mouth directly to theirs.
Around the age of four to six months of age, your baby's teeth will begin to appear. When they do, cleaning is simple. Take a soft cloth or gauze dipped in warm water and gently wipe their teeth clean. Don't neglect those baby teeth that allow your child to chew, talk and smile.
When you bring your child to Generations Dental Care, we will count their teeth at their first appointment, and at all of their ensuing visits, we'll clean their teeth, check for proper development, and examine for signs of tooth decay. We may also recommend dental sealants—a thin plastic coating that is "painted" on molars to seal them against decay causing bacteria—or fluoride treatments to strengthen their teeth's enamel, the first line of defense against decay.
Call Our Office Today
If the time has come for your child to visit the dentist, then schedule an appointment today with Generations Dental Care in Concord, NH. We also serve children (and adults) from Manchester, Bow, Loudon, and Canterbury, Hooksett, Pembroke and the surrounding areas.