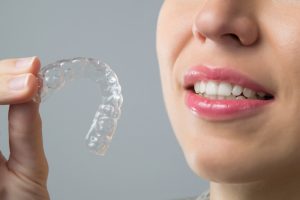 Are you too ashamed to smile? Gaps, crowding, overbite–these defects spoil your looks and self-image. Older teens and adults can correct their smile aesthetics with Invisalign clear aligners from Generations Dental Care in Concord.
What are Invisalign Aligners?
Invisalign aligners are innovative orthodontic appliances. Instead of the usual metal or ceramic brackets and wires, the Invisalign system uses 18 to 30 pairs of clear, smooth appliances which move teeth to more attractive and better functioning positions.
Resembling teeth whitening trays, Invisalign aligners are customized from BPA-free acrylic. They  fit tightly over the patient's teeth but are fully removable for meals and oral hygiene.
In addition, the aligners are almost invisible. Patients report that few people notice them. If they desire, Invisalign wearers remove their appliances for job interviews, proms or wedding pictures. This feature appeals to both teenagers and adults.
Who is a Candidate for Invisalign?
Dr. Christopher Binder and his associate dentists at Generations Dental Care evaluate patients to see if Invisalign is appropriate for them. A comprehensive oral examination, digital X-rays and other precise imaging help doctor and patient decide on the best treatment plan. A specially-trained Invisalign technician crafts the actual aligners off site according to the doctor's instructions.
Invisalign works on several mild to moderate orthodontic issues, including:
Overjet (protruding front teeth)
Overbite
Underbite
Open bite
Crossbite
Tooth rotation
Gaps
Crowding
Living with Invisalign
Typically, treatment takes 9 to 15 months, shorter than traditional braces. About a year is average. Patients come to Generations Dental Care every 4 to 6 weeks for progress checks and to pick up their new aligner pairs. There are no complicated or painful adjustments.
Compliance to the care plan keeps treatment moving forward. The Invisalign patient wears the aligners 20 to 22 hours a day. For teens, aligners may be equipped with compliance tabs that tell dentist, parent and patient if the individual wears his or her appliances for the right amount of time daily.  Also, the patient must rinse and brush aligners after meals and snacks and keep up with twice daily brushing and daily flossing.
After completing treatment with Invisalign, the patient wears a customized retainer each day. The dentist often recommends a Vivera retainer from Invisalign to keep teeth properly aligned for the long term.
Six Month Smiles
Generations Dental Care also offers a tooth-colored system of wires and brackets called Six Month Smiles. As the name implies, this orthodontic system corrects cosmetic dental problems in just about six months. Not for complex bite problems, Six Months Smiles works quickly move front teeth, or the "smile zone," into straighter, more cosmetically-pleasing positions.
Are You Too Old for Braces?
No, you're not because Invisalign and Six Month Smiles have helped thousands of adults enjoy good-looking, straight smiles. Contact Generations Dental Care today to arrange a cosmetic dentistry consultation. We are open from 8 to 5 Monday through Friday.