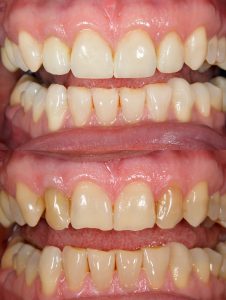 You're a successful History teacher at Concord High School – when you lecture in front of the class, you're always confident in the material you teach, but are self-conscious when it comes to your teeth. You want to make sure your students are focusing on what you teach them, rather than on your smile – you know it's finally time to get the chips and crooked alignment fixed. Who can you trust as a superior cosmetic dentist in Concord? The team at Generations Dental Care has the experience you need and can make your grin one for the history books.
What Cosmetic Services Are Available?
Our team of 4 qualified and talented dentists and specialists can give you a brilliant smile, no matter what imperfections you may be dealing with. We offer:
Teeth Whitening – Our in-office treatments, KoR and ZOOM!, give you remarkable results and will lighten your teeth by several shades. Since they're so fast, these procedures are perfect to tack on at the end of a regular appointment. We also have at-home teeth whitening products that are customized for you and produce noticeably whiter teeth in just a week or two.
Porcelain Veneers – Have teeth that are chipped, misaligned, short, or spaced too widely? Veneers are a perfect solution for you. Your natural teeth will be prepared to have the thin, yet durable shell of porcelain applied to them. Once ready, the veneers will be permanently bonded to your original teeth, producing a long-lasting, natural-looking upgrade to your grin. Veneers are also effective in lightening teeth, since you can pick the shade of porcelain and bonding material that will be used.
Six Month Smiles – Like the name suggests, Six Months Smiles is a revolutionary treatment for straightening your teeth in no time. Using invisible braces that consist of clear brackets and tooth-colored wires, your smile can be perfectly straight in just six months.
Invisalign – Want to correct misaligned teeth, and want to avoid a mouthful of metal in the process? Invisalign is the way to go. You'll use 100% customized, clear aligners that will straighten your teeth quickly. Simply switch to a new pair of aligners every two weeks, and be amazed by the results.
Crowns & Bridgework – Have teeth that are broken or missing entirely? We can correct gaps in your smile with porcelain crowns and bridges. These prostheses will match your existing teeth perfectly, and are healthier than using material like gold and silver alloys. Incredibly durable, these types of dental work can last for decades.
Dental Implants – Perhaps you'd prefer to improve your jaw health while replacing missing teeth. With dental implants, the posts that will be placed in your jaw help keep the bone dense and offer excellent support for the custom created "caps" that look just like your natural teeth. And, you can rest assured that these will last through wear and tear – dental implants typically last longer than crowns and bridges.
Composite Bonding – Do you grind your teeth at night or have chips in your smile? Composite bonding is an excellent option since it can lengthen teeth, reshape any misshapen dentitions, and fill in chipped areas. In this procedure, the biocompatible bonding material will be applied directly to your existing teeth and will blend in perfectly. If braces won't fix the issues you see in the mirror, bonding could be right for you.
Now that you know how many different ways we can make your smile radiant, schedule your appointment today with Generations Dental Care!