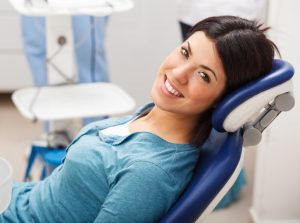 For patients who have had orthodontic treatment or a dental crown made, taking the impressions of their teeth is not something they will soon forget. Having an uncomfortable metal tray filled with a goopy substance that hardens in your mouth is typically not pleasant for most patients, especially those with a gag reflex. What if we told you that these types of impressions are now a thing of the past and today's impressions of your teeth can be done digitally? This gives many patients a reason to rejoice and Generations Dental Care, your dentist in concord, is proud to offer digital impressions to our patients.
The Evolution of Dental Impressions
Dentists use models of a patient's teeth in order to create restorations such as dentures, dental crowns, and bridges. Improvements are always being made in the world of dentistry, and we've certainly come a long way when it comes to taking impressions, making it more comfortable and efficient for patients with digital impressions.
Some of the first dental impressions in the 1800's were made from beeswax, however it was soon determined that beeswax didn't elicit as accurate an impression as modeling compound. In the 1900's, many dentists used a combination of plaster and wax to take their impressions, until rubber and silicone based impression material was first created in the 1950's.
These materials can be removed from the mouth without distorting the impression, and are still in use today.
How Do Digital Impressions Work?
When we take a digital impression, we use a scanner to take 3D images of your teeth, instead of the goopy material you would have let harden in your mouth for what seems like forever. These 3D images are more comfortable and are readily available for discussion and treatment planning, rather than having to wait for models of your teeth to be made.
Digital impressions not only improve the patient's experience, they also allow for more precision and accuracy. These images are ideal for a number of treatment procedures such as:
Porcelain veneers
Dental implants
Invisalign
Porcelain crowns
At Generations Dental Care, our doctors are committed to making your experience at our office exceptional each and every time you visit! Digital impressions are just one of the advanced technologies we use to do this.
Contact Generations Dental Care
Do you want to learn more about what we have to offer? Give us a call today to schedule your next appointment.