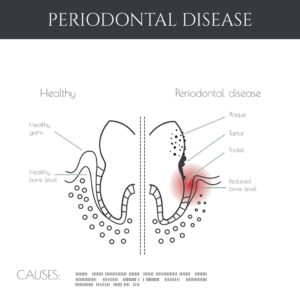 Did you know that over half of Americans have some form of gum disease? Whether it's gingivitis or advanced periodontal disease, this common condition can wreak havoc on your smile and even cause your teeth to fall out. To prevent and treat the effects of it, your dentist in Concord has a multitude of treatment options, including gum contouring to treat recession. Learn more about how the team from Generations Dental Care can help keep your grin healthy in this post.
What Is Gum Disease?
Our team of experienced professionals explains that gum disease has three stages: gingivitis, periodontitis, and advanced periodontitis. Regardless of the stage the condition, this is an infection and inflammation of the gingiva (gum tissue) which affects the soft and hard structures that support your teeth. This is usually the result of the presence of bacteria from food (especially sweets) in the mouth.
How Is Gum Disease Diagnosed?
Generally, patients present the following symptoms that point to gum problems:
Red, swollen, or tender gums
Bleeding while brushing, flossing, or eating food
Receding gum lines
Extra space between the teeth
Pus between teeth and gums
Bad breath or an unpleasant taste in the mouth
Teeth that don't fit together when you bite
Chronic bad breath
Gums that pull away from the teeth
Loose or misaligned teeth
Sensitive teeth
If we see any of these symptoms during your exam, we'll use a special dental ruler to measure the distance that the gums have pulled away from your teeth. This will help us determine what stage of periodontal disease you're experiencing, as well as the best course of treatment.
How Can You Treat My Gum Disease?
Depending on the severity, we can address your gum disease in the following ways:
With gingivitis, we can use prescription-strength, medicated mouthrinses to kill bacteria.
With more advanced stages of periodontal disease, we can use scaling and root planing to keep teeth safe.
When gum recession happens, we can improve your tissue strength by completing gum recontouring surgery. We'll graft healthy tissue over the areas where your natural gums have pulled away from teeth, restoring your dental well-being.
No matter how serious or mild the case, we have options to treat and reverse gum disease.
Now that you know how our treatments for gum disease can help save your smile, schedule your appointment with Generations Dental Care to bring back your dental health.