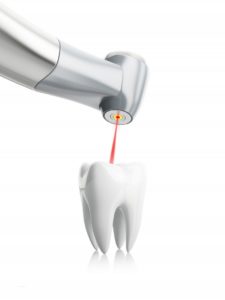 Laser technology has proven to be one of the most useful technologies in the medical industry (not to mention one of the coolest.) However, if you're just now hearing about it, it may appear intimidating at first. "Will the laser damage my teeth? How do I know that it's safe?" You wonder.
You can rest knowing that your dentist in Concord uses laser dentistry to provide you the highest quality results in the safest way possible. Keep reading to learn the benefits of laser dentistry.
What is Laser Dentistry?
Laser dentistry is the practice of using devices that utilize lasers to perform many common dental treatments. You might be familiar with this practice through cosmetic treatments like teeth-whitening, however laser technology has shown promise for a lot of other treatments in your dental office as well.
Lasers can be used to remove tooth decay inside teeth and prepare the surrounding area for a filling. They can also reshape gums for periodontal disease and remove bacteria during root canal procedures. They can even remove lesions in the mouth or perform a biopsy if necessary.
Laser dentistry is categorized in two ways: soft and hard. Next, we'll go over the uses for each.
What are the Differences Between Soft and Hard-Tissue Laser Dentistry?
Soft-tissue lasers are ideal for more common dental treatments, such as deep cleanings, periodontal therapies like scaling and root planning, and cosmetic procedures like crown lengthening and gum tissue recontouring.
Hard-tissue laser treatments are ideal for procedures that would normally require dental drilling or scraping with metal dental tools. These treatments include removal of a decayed tooth structure, excavating interior tooth structures during root canals, and preparing teeth prior to placement of restorations. You'll likely hear your dentist mention the benefits of both types.
What are the Benefits of Each?
Metal dental tools are more likely to cause trauma in the mouth, leading to longer periods of healing needed in between treatments. With laser dentistry and small amounts of local anesthesia, you'll experience little to no pain and heal much quicker compared to traditional methods. This will improve your overall dental experience, especially if you feel anxious during procedures.
Laser technology allows for more precise treatment, meaning only intended tissue is removed and more of the healthy tooth structure is saved. Treatment times are also shorter because there is little to no bleeding. This means no sutures are needed afterwards and procedures are easier to complete.
You can benefit from the practice of laser dentistry. Schedule an appointment with your dentist in Concord today!
About the Author
Dr. Christopher Binder, DMD, earned his Doctorate of Medical Dentistry degree from Tufts University School of Dental Medicine in 1997. He has completed multiple post-graduate programs since joining the practice and has been named a Top Dentist by New Hampshire Magazine 8 times. To learn more about his practice, contact him at (603) 225-6331 or visit his website.