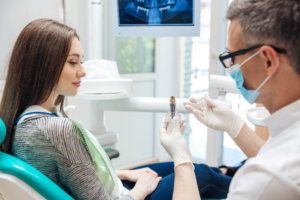 Are you among the 120 million Americans who are missing at least one tooth? Are you ready to join more than 500,000 people this year who will be filling the empty space with dental implants? That is great! You will make an excellent investment in your oral health and quality of life with an option at has over a 95% success rate. Before you can start your journey to a complete smile, you will first need to see your dentist in Concord. With a comprehensive consultation, they will determine if dental implants are the right choice for you.

Your Dental Implant Consultation
The long-term success of the procedure relies on your oral health, jawbone's density, and your ability to heal and fight infections. To ensure that your risk factors for implant failure are minimal, you will need a thorough consultation to evaluate various aspects of your oral and general health.
Physical Oral Health Examination
Your dentist will conduct a visual examination that will also involve the use of imaging equipment, like a CT scanner, to evaluate your oral health. Generally, if your gums are healthy, you will be a candidate for the procedure; however, they will also access your jawbone's density. Based on the results of the examination, it may be recommended that you have additional procedures performed prior to the placement of the implant posts, such as tooth extractions or bone grafting.
Discuss Medical History
The long-term success of your dental implants relies on your body's ability to properly fuse to the implant posts while also remaining free from infection. As a result, your medical history will be discussed, as well as any medications that you may be taking. If you have any medical conditions or take medications that lower your body's ability to heal or fight infections, you may not be a candidate. In addition, if you have had radiation to the head or neck, they may not be the right option for you.
Evaluate Your Lifestyle History
To ensure that your risk for implant failure is minimal, your dentist will need to discuss your lifestyle history. You must be committed to maintaining your oral hygiene to reduce your risk for an infection. In addition, if you use tobacco or drink alcohol in excess, you will need to stop prior to having the posts placed because they reduce your body's ability to heal and fight infections.
Schedule Your Consultation Today
If you are ready to see if dental implants are right for you, take the first step to a complete smile and schedule your consultation.
About Generations Dental Care
For more than 100 years, we have provided generations of healthy smiles in the community. We cater to all oral health needs, even complex issues like tooth loss. If you are missing teeth, we can help you regain a complete smile with dental implants. We will determine if they are the right choice for you and create a customized treatment plan. Contact our office today to schedule your consultation.