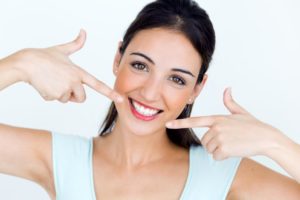 When you brush your teeth, do you notice blood on your toothbrush or in your sink? When you look in the mirror, do your gums look red and/or feel tender? Are your teeth appearing longer than usual? If so, you're likely experiencing the early signs of periodontal disease. Without healthy gums, your teeth won't be able to stay in your mouth. Luckily, periodontal therapy can get your oral health back on track!
To learn what treatments are available to you, keep reading!
Scaling and Root Planing
When deposits of plaque and tartar build up on teeth, they begin releasing toxins over time that cause gum disease. Scaling and root planing is specifically intended to remove these tough pockets of tartar and bacteria that collect above and beneath the gum line. It's also meant to smooth out the tooth root surfaces, which makes it more difficult for plaque to build up again.
This treatment is typically performed with a hand-scaler and ultrasonic cleaner, which uses high-frequency vibrations to break down plaque deposits. Because of the complexity of scaling and root planing, it usually needs to be performed in stages. Therefore, it's not uncommon to schedule a follow-up appointment to finish treatment for patients with advanced periodontitis.
Soft Tissue Laser Therapy
Patients who want a more efficient deep cleaning have much to gain by opting for soft tissue laser therapy. The BIOLase Epic X soft tissue laser helps your dentist perform the exact same treatments, but with benefits you wouldn't find with traditional dental tools. For example, because the laser cauterizes tissue upon contact, patients can worry less about bleeding and discomfort. That means they won't need sutures after treatment is done.
Furthermore, soft tissue laser therapy is ideal for other gum treatments, including gum tissue recontouring/crown lengthening, scaling, and root planing! Because the laser is so accurate, your dentist can more effectively retain healthy soft tissue that's present, dramatically reduce discomfort felt during traditional gum therapy, prevent teeth sensitivity after treatment, and lower treatment times overall.
Antibiotic Therapy
Antibiotic therapy is technically not a standalone treatment. It's typically used in conjunction with scaling/root planing and soft tissue laser therapy. By doing so, your dentist can more effectively target bacteria that was left behind during initial gum therapy. After all, the most effective way to eliminate the source of your infection is by being as thorough as possible, and antibiotics allow your dentist to do exactly that.
Your dentist's main goal is to remove bacteria, tartar, and prevent future infections from occurring. If they're able to do so through pain-free dentistry, they'll always consider that option first and foremost. To get your gum disease treated and get your oral health back on track, schedule an appointment with your dentist today!
About the Author
Dr. Christopher Binder earned his DMD degree from the Tufts University School of Dental Medicine. To stay ahead of the best techniques in dentistry, he's completed the Advanced Restorative Dentistry Program at the Las Vegas Institute for Advanced Dental Studies. To learn more about his restorative periodontal treatments or practice, contact him through his website.