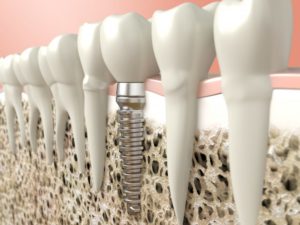 Whether you have issues with keeping a consistent and healthy diet or you just wish you could smile or laugh without worry of your denture falling out, there is a solution out there that can solve problems related to missing teeth. Many patients can benefit from their durability and lifelike appearance and function, but how much do dental implants cost?
Many factors influence what you may pay compared to other patients, so it's essential to have a discussion with your dentist first. Before you do, here's what you can expect in terms of cost for dental implants.
Determining the Cost of Implants and Restorations
Before the cost of implants and restorations should even be considered, the dentist needs to confirm that no other preparatory treatments are needed beforehand. During the planning stages, he'll examine your bone density and volume to confirm that an implant can sufficiently be placed and integrate properly. Besides having healthy gums, this is the most important step in implant placement. If additional bone is needed, then a bone graft can be performed. This entails using donated bone tissue or bone from another area of the body and placing it onto your jawbone, allowing it to grow and expand the volume necessary for placement.
Another important factor is the number of implants you intend on receiving. In some cases, it may be better to opt for an implant-retained bridge or denture if you need to replace multiple or all teeth on a specific arch.
With that being said, the average implant crown cost between $1,000 and $3,000. The implant itself may cost anywhere from $1800 to $2,500 per fixture.
How Does Insurance Influence Cost?
More often than not, dental implants are not covered by dental insurance, but it's becoming easier to have them covered compared to a decade ago. For example, if you have a dental indemnity plan, it may cover the cost of the restoration. In some cases, a medical insurance policy may pay for an implant if the tooth was lost due to an injury.
Regardless, always contact your dental insurance carrier first and ask if dental implants are covered in a procedure if you aren't sure.
The Best Investment for Replacement Teeth
While dentures and dental bridges can work to replace teeth, there's a reason dental implants are considered the most cost-effective option, despite their high price.
While dental bridges and dentures typically require routine replacement, dental implants have the potential to last a lifetime. Their 10-year success rate is typically 98 percent and with daily care and regular dental visits, they can easily last over 25 years.
Keep in mind these are teeth that require no additional maintenance, no removal, and offer the most natural solution to replacement teeth. Since they replace the tooth root, they prevent the bone from resorbing and provide optimal biting strength. They even prevent your face from sagging thanks to their ability to resume blood flow to your cheeks, gums and face.
Have more questions about dental implants and their benefits? Schedule an appointment with a dentist today!
About the Author
Dr. Christopher Binder earned his DMD degree from Tufts University School of Dental Medicine. Thanks to his Advanced Restorative Dentistry and Advanced Adhesive Aesthetics Programs at the Las Vegas Institute of Advanced Dental Studies, he's fully trained to provide you a crown that matches your natural smile perfectly. To learn more, you can contact him through his website.