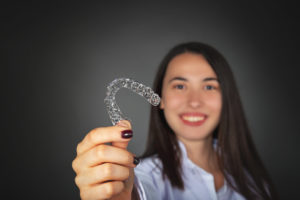 If you have crooked, misaligned, gapped or crowded teeth, it can leave you with less confidence and the diminished ability to clean your teeth as thoroughly as you'd like to. Whereas the only option to correct your bite used to be traditional braces, you can now enjoy the same benefits with the Invisalign method. As you continue reading, you'll learn why more and more people are choosing this method to correct their bite woes, and you'll discover the difference the Propel Orthodontics system makes!
What the Invisalign Process Entails
Having your bite corrected with the Invisalign method involves a series of clear, plastic trays being custom-designed by your orthodontist and fabricated by an in-network lab. You will wear each set for one-to-two-week increments and then discard them for the next pair in the series.
Instead of using wires and brackets to apply tension, your teeth are gently adjusted from the progressing clear trays.
The procedure has gained popularity because of the following benefits:
A discreet look throughout the treatment process
Removable trays that allow for normal eating and oral hygiene
Faster results than traditional braces
How to Propel Your Results!
The professionals at Generations Dental Care use a special system to deliver even faster results – Propel Orthodontics. While the traditional Invisalign method can correct your smile in 6 months to 1 year, you can experience even faster results with Propel Orthodontics.
The system uses a breakthrough technology called the VPro5 and Excellerator Series. Here are the benefits of each:
VPro5 – Patients bite down on a specially-designed vibrating mouthpiece after inserting their aligners, and the gentle vibration helps to adjust them so they fit snuggly against the teeth, which helps to lessen treatment time.
Excellerator Series – With the Excellerator Series, the process of correcting the bite is sped up by the orthodontist using a special device to make osteoperforations – small dimples in that jawbone that encourage faster movement.
More Responsibilities – Less Time
The unfortunate reality that many people are facing is the task of getting more done in less time. As a result, it's a huge perk to be able to complete a treatment process in a shorter period. To find out if Invisalign and Propel Orthodontics is right for you, simply reach out to your local orthodontist to schedule a visit.
With the help of a trained and highly-skilled professional, you can soon have the smile of your dreams!
About the Author
A graduate of Tufts University School of Dental Medicine, Dr. Christopher Moriarty combines years of experience with a wealth of knowledge to provide his patients with superb dental care. To stay abreast of the latest changes in dentistry, he maintains affiliation with professional organizations like the American Dental Society and the Concord Dental Society. Additionally, Dr. Moriarty has received advanced training in Invisalign treatment, which he uses to help patients achieve the smile of their dreams at Generations Dental Care. He can be reached for more information through his website.