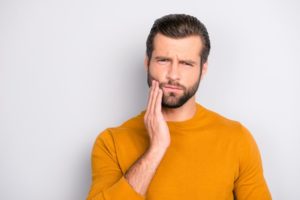 Most people are aware that certain groups are at a higher risk of suffering from life-threatening complications if they contract COVID-19. Those groups include elderly individuals, people with compromised immune systems, and those with a high BMI. Recent research suggests that yet another group should be added to that list: people with gum disease. A periodontal dentist in Concord is here to discuss that research and how it should affect your view of your oral health.
Harmful Proteins and Respiratory Problems
People with gum disease tend to have higher levels of interleukin (IL-6), a particular type of protein that plays a role in immune responses and inflammation. A study in Germany tested hospitalized COVID-19 patients to determine their level of IL-6, and they found a startling correlation. Patients with more than 80 pg/ml of IL-6 in their blood were 22 times more likely than other patients to require a respirator.
One of the study's lead researchers, Dr. Shervin Molayem, stated, "Gum disease has been linked to other breathing ailments, including pneumonia and chronic obstructive pulmonary disease (COPD), so it seems biologically possible [for it to be related to] COVID-19 respiratory problems."
What Does the Study Mean?
Many groups who are at a high risk of suffering from COVID-19 complications are the same groups that are at an increased risk of developing gum disease. For example, well before the current pandemic began, it was established that elderly people and those with immune-compromising conditions were more likely to suffer from gum problems than the general population. Their preexisting health conditions, combined with a risk of gum disease and the potential for contracting COVID-19, create a dangerous combination of factors that could result in life-threatening consequences.
What You Can Do
Whether or not you are considered to be high-risk for COVID-19 complications, you should take precautionary measures to protect yourself. For example, wearing a face mask, frequently washing your hands, and maintaining social distancing are all important. You should also keep a close eye on your oral health. If you notice any signs of gum disease, visit your dentist as soon as you can. It may be possible for them to help you reverse your condition and thereby give you one more layer of protection against the current pandemic.
Here are some indicators that mean you should have a professional assess your gum health:
Your gums feel swollen
Your gums bleed easily when you brush
Your gums are red
You struggle with persistent bad breath
Gum disease and COVID-19 may be a deadly combination! Protecting your oral health is more important than ever during this pandemic.
Meet Our Practice
We are proud to have eight talented doctors on our team at Generations Dental Care. Their combined experience and training equip them to handle virtually any dental problem, including gum disease. Our entire team is committed to maintaining a clean dental office, and we have strict measures in place to prevent the spread of COVID-19. To learn more about us and our services, contact us at 603-225-6331.