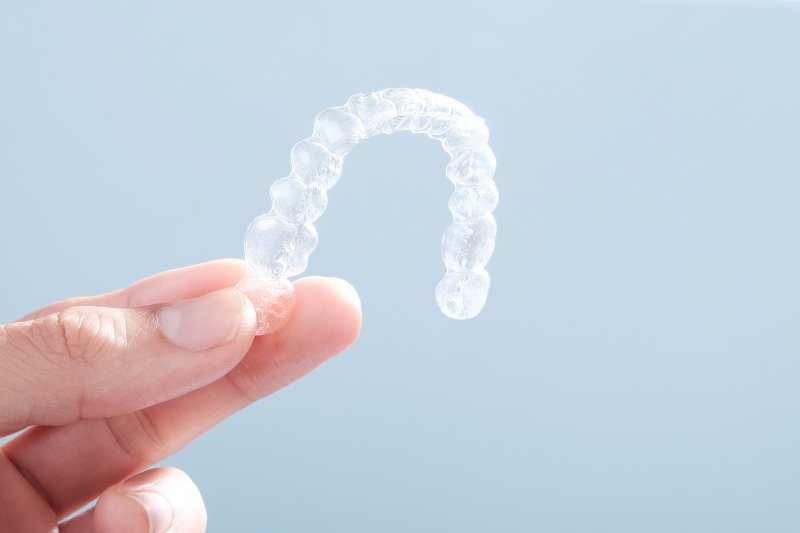 Decades prior, correcting gapped, crowded, or misaligned teeth required clunky metal brackets and wires. However, that all changed when Invisalign introduced their aligners, which were equally as effective and virtually undetectable. Over the last two decades, over 3 million patients have discreetly achieved their smile goals thanks to the same innovative technology. However, the benefits of Invisalign aren't limited to purely cosmetic reasons. Read on for four additional perks!
#1. No More Pesky, Uncomfortable Wires
Perhaps one of the biggest contributors to Invisalign's popularity is that their aligners guide your teeth into the desired position without the use of obtrusive metal brackets and wires. Of course, the aesthetic benefit of bypassing "metal mouth" is substantial, but their clear trays are also significantly more comfortable! After all, they are custom-made to your unique smile to limit any potential of the aligners incessantly rubbing against your cheeks and gums, causing unpleasant irritation.
#2. There Are No Food Restrictions
When traditional metal braces are bonded to your teeth, an extensive list of food restrictions isn't far behind. Fortunately, the same cannot be said for Invisalign! Thanks to their entirely removable trays, you can enjoy all your favorite meals (especially around the holidays) without worrying about compromising your treatment timeline.
#3. Get Jaw-Dropping Results in a Fraction of the Time
Before Invisalign came on the market, patients could expect to spend anywhere from 18 to 36 months with their metal brackets and wires. While severely rotated teeth and significant bite corrections still require extensive treatment, the average patient with Invisalign sees results in just 12 months! So, not only can you gradually straighten your teeth tastefully, but you can do so in record time.
#4. Enjoy Hassle-Free Oral Care
Between the sturdy brackets and bulky metal wires, you can easily imagine how complicated the simple task of brushing your teeth is with traditional braces. And that doesn't even include the morning and evening battle to floss! Luckily, if you choose to perfect your smile with Invisalign, you can simply pop out your aligners, complete your oral hygiene routine hassle-free, and place them back in once you're finished. No stress. Just a thorough clean!
Whether you have been considering Invisalign for years or just recently started researching the process, it's important to know that there are more benefits than just the obvious cosmetic perks. Take the next step toward your dream smile by contacting your dentist today!
About the Practice
For over 100 years, Generations Dental Care has been the dental home that patients in Concord and surrounding communities trust with their smiles. After all, their state-of-the-art dental office has multiple talented dentists on staff, a variety of comfort-based amenities, a wide array of services for the entire family, and over 700 5-star reviews! If you want to leave crooked, gapped, or misaligned teeth behind, then visit their website or give them a call at 603-225-6331 to see if Invisalign in Concord is right for you.