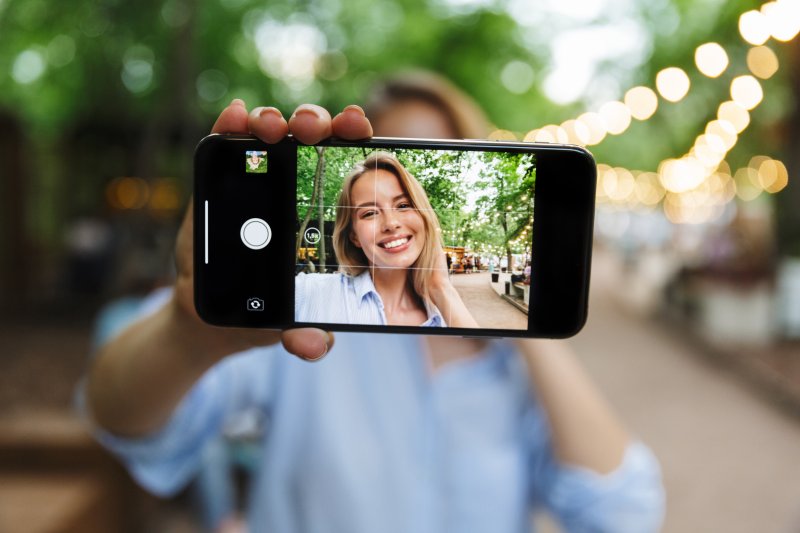 Feel like TikTok is everywhere? That's because it is! In 2018, it became the most downloaded app, with over 45 million users. This social media platform saw another surge in followers after the stay-at-home orders in March 2020, and it has since achieved unparalleled popularity. Today, it's the go-to app to watch entertaining videos, spread awareness on hot topics, and learn tips on everything from makeup to healthy eating. Unfortunately, some of the information being shared in the videos getting millions of views is potentially dangerous. With this in mind, here are three TikTok dental trends you should NOT partake in.
#1. Bleaching Teeth with Hydrogen Peroxide
From creamy coffee to delicious ice cream, many of the finer things in life are the source of dental discoloration. Fortunately, that's where teeth whitening comes in. Although there are both over-the-counter and professional treatments available, TikTokers are encouraging their followers to use hydrogen peroxide to lighten the shade of their smile. Since this product is not intended for your teeth, it can erode your enamel and even make your teeth look more yellow in the process. So, make sure to stick to store-bought kits or professional treatments from your dentist instead.
#2. Nail-Glue Vampire Fangs
Halloween is the most "spooktacular" time of the year. However, trends like nail-glue vampire fangs make this season more spooky than spectacular. Videos sharing this costume "tip" seem to gain traction every fall, inspiring many followers to dress up as a vampire. A video that doesn't get seen enough, however, is one where a user begins to hyperventilate as they realize how difficult it is to remove the glued-on fangs. Even if you are able to dislodge them at home, the lasting damage to your oral health can be significant, requiring an emergency trip to your dentist's office.
#3. Shaving Teeth with a Nail File
Another popular "hack" on TikTok depicts users using a nail file to even out their teeth or make the overall shape smaller. Again, a nail file is not intended to be used for teeth, which is why it can easily cause extensive damage to your enamel. Additionally, using unsanitary tools like this can introduce bacteria into your mouth, potentially increasing your risk of sensitivity, cavities, and gum disease. Therefore, if you are unhappy with the shape or size of your teeth, the best and safest thing you can do is schedule an initial consultation with your cosmetic dentist to discuss your options!
TikTok is a platform that isn't inherently dangerous. However, it can be when users are pushing out content without expertise or care for how it can negatively impact their followers. If you are a fan of this app, just make sure to avoid dangerous TikTok teeth trends.
About the Practice
Generations Dental Care is where top-tier service, trustworthy dental care, and the latest in proven technology come together, creating a patient experience unlike any other. It hasn't gone unnoticed either; we currently have over 700 5-star reviews online! We genuinely care about you and your smile, and we will go the extra mile to restore it if it is decayed or damaged – no judgment. If you need help getting your smile back in pristine condition or are simply interested in scheduling a checkup and cleaning, visit our website or give us a call at 603-225-6331.