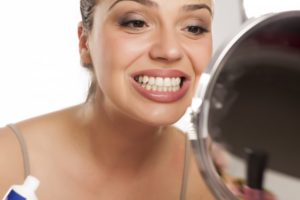 Maybe you were born with effortlessly straight teeth. Maybe you got your teeth straightened with braces or Invisalign when you were younger. In either case, it can be alarming to notice that your teeth have started to drift out of their proper positions. Understanding some of the possible causes of teeth shifting can give you an idea of what to expect as well as a plan for what to do about it. Keep reading to learn five common reasons why teeth might shift and how your dentist can help!
5 Common Causes of Teeth Shifting
There are a number of reasons why your teeth might drift out of place over the years. The best way to find out why your pearly whites are moving is to have them examined by your dentist. In the meantime, learning about some common causes may prove helpful:
Gum disease – Left untreated, this bacterial infection can weaken the gums and connective tissues that keep your teeth firmly anchored in place.
Tooth loss – Whether from an unfortunate injury, gum disease, or some other illness, having a gap in your grin can cause the adjacent teeth to drift in an attempt to fill in the empty space.
Bruxism – Also known as chronic teeth grinding, bruxism applies pressure to your teeth over time that can wear down your enamel, increase the risk of breakage, and even impact the alignment of your bite.
Tongue thrust – Tongue thrust occurs when you develop a habit of involuntarily pressuring your tongue against the backs of your front teeth when swallowing, talking, or even just resting. Eventually, this habit can lead to a gap between your front upper and lower teeth.
Aging – As you get older, your body naturally changes. Your jawbone and the ligaments supporting your teeth are no exception. Loose teeth, bite adjustments, and contracting lips might all contribute to your teeth shifting out of position.
How Your Dentist Can Help with Teeth Shifting
No matter the reason why your teeth have been shifting, your dentist can create a treatment plan to help. Traditionally, teeth shifting was addressed with metal braces, but that is no longer your only option. These days, many dentists offer Invisalign as a more discreet alternative. These clear plastic trays are worn over the teeth and exert a gentle pressure on them, gradually moving them into a more desirable and healthy alignment. Whether your teeth are crowded, gapped, or generally crooked due to unexpected shifting, there's a good chance that Invisalign can help!
About the Practice
For more than a century, Generations Dental Care has been the trusted dental home for families in Concord, NH and the surrounding communities. Their state-of-the-art dental office has multiple experienced dentists on staff, a variety of amenities designed to help you feel comfortable, a wide array of dental services for the entire family, and more than 700 5-star reviews! If you want to discover the cause of your shifting teeth and how the team at Generations Dental Care can treat it, then visit their website or call them at 603-225-6331.