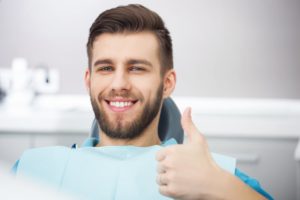 Sedation dentistry is a group of services that aims to safely and easily make sitting in the dental examination chair more comfortable. From light nitrous oxide sedation, to more relaxing oral conscious sedation, to powerful IV sedation, these calming services can make keeping your smile happy and healthy a breeze. But is sedation dentistry in Concord right for you? Dental sedation is used in a variety of ways for all sorts of different reasons that you may not have previously considered. Here are five important benefits of receiving sedation dentistry!
1.) Overcome Dental Phobia or Anxiety
Recent studies indicate that nearly 75% of adults experience dental anxiety or a fear of visiting the dentist, 5-10% of which are classified as suffering from dental phobia. Whether your fear is keeping you from getting the care you need or simply making you dread your upcoming appointments, sedation dentistry can help. Different levels of sedation can be used to address different levels of anxiety or phobia to ensure your visit is as relaxing and pleasant as possible.
2.) Feel More Comfortable in the Examination Chair
For patients with neck or back problems, sitting in the examination chair can be a physically uncomfortable experience. Similarly, patients with TMJ disorder oftentimes have difficulty keeping their jaws open throughout their treatment. Dental sedation is not a pain reliever, but it prevents how the brain interprets discomfort, thus making it far more comfortable for these patients to have their dental care completed.
3.) Suppress an Overactive Gag Reflex & Sensitive Teeth
An overreactive gag reflex or very sensitive teeth can make even simple cleanings a difficult experience. In many cases, these symptoms end up causing dental anxiety. Dental sedation can dull these sensations to the point where they don't bother you during your dental care.
4.) Have More Work Completed In One Appointment
Sedation dentistry is often used for long or complex procedures. If you're having several treatments completed at once, it will help you feel more comfortable and relaxed throughout the full extent of your appointment. Plus, your dentist will be able to work faster while you are sedated, so even more can be completed in a shorter amount of time.
5.) Get the Happy, Healthy Smile You Deserve
Whether it's physical or emotional discomfort that keeps you away from the dentist, your oral health is put at risk. The longer you go without routine checkups and the dental care you need, the higher your risk is of developing serious oral health issues or dental emergencies. With the help of sedation dentistry, taking care of your smile has never been so easy!
About the Practice
At Generations Dental Care, your comfort and safety are our top priorities. Our friendly team strives to create a relaxing atmosphere for our patients, but we understand this isn't always enough. That's why we're proud to partner with the Concord sedation specialists at Blue Sky Anesthesia Associates. With their expertise, we're happy to offer nitrous oxide sedation, oral conscious sedation, and IV sedation to help make your visit as pleasant as possible. To learn more, we can be contacted online or at (603) 225-6331.