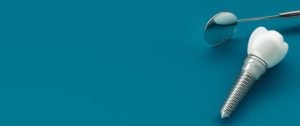 One of the most coveted solutions for replacing missing teeth, dental implants have completely revolutionized modern dentistry! They're able to fully restore lost teeth in terms of look and feel, and upon receiving them, patients are given a beautiful new smile that also functions better than ever before! However, if you're looking to replace your missing teeth and aren't sure if dental implants are worth the cost, here's more from your dentist in Concord about why they're absolutely worth it!
Why Dental Implants Are Worth It
One of the biggest problems associated with missing teeth is that more often than not, the issue leads to additional missing teeth! Regardless of how teeth are lost, gaps in your smile are problematic because the adjacent remaining teeth will gradually shift towards the openings and fall out themselves. This means that replacing missing pearly whites is always going to be in your health's best interest, and since dental implants replace the entire structure of a tooth from root-to-crown, you don't have to worry about losing more teeth!
Although, many patients aren't too thrilled with the prospect of dental work, and the price tag often doesn't do their attitude any favors. But dental implants must be thought of as a long-term investment in your smile: spending a little money now will save you a lot of money and trouble later on. While there are several factors that influence their cost, such as how many teeth need to be replaced, any additional oral surgeries deemed necessary, and the location of the teeth being replaced, the cost of dental implants is still affordable and well worth it. It's also worth noting that other tooth replacement options, including dentures and bridges, might be cheaper upfront but often end up needing to be replaced—and those costs can add up over the years!
6 Priceless Benefits of Dental Implants
To put it simply, dental implants are titanium posts that are surgically embedded into your jawbone to restore lost teeth, and because they're implanted into the jaw, they offer many more impressive benefits compared to other tooth restoration options like dentures or bridges—mainly, they keep your smile complete and looking its best. Here are six of their priceless benefits:
Longevity – With proper care, dental implants can easily last for several decades (20 – 30 + years).
Versatility – They can effectively replace one missing tooth or all of your missing teeth!
Durability – The implants are made of a strong, biocompatible material that's able to fuse with your jaw and ensure a stable, lasting solution.
Natural-looking – Dental implants are custom-made for your smile, meaning that they'll look and feel impressively lifelike.
Prevents bone loss – Since the implants fuse with your jawbone, they provide healthy stimulation to your jaw and prevent bone matter loss.
Easy to maintain – You don't need any special tools or equipment to take care of your implants; consistent oral hygiene will keep them clean and intact.
Don't hesitate to speak with your dentist about dental implants if you have missing teeth; they might seem like a big commitment, but in the grand scheme of things they're certain to improve your oral health and enhance your quality of life.
About the Practice
The team at Generations Dental Care has proudly served patients and families in the Concord, NH area for several years. The practice is thrilled to offer a wide range of services including tooth-restoration options like dental implants. If you're on the fence about dental implants and have questions about this incredible solution, don't hesitate to visit the practice's website or give them a call for assistance: (603) 225-6331.