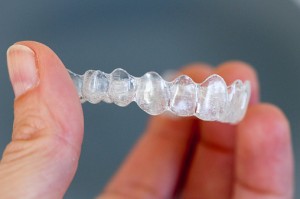 A misaligned or crooked smile can be a real pain in the mouth. You might often ask yourself, "why me?" We'd rather you didn't ask this, because you're one of many patients whom suffer from a not-so-straight smile. There's good news – Invisalign can solve your misalignment problems in secret. The technology is quite revolutionary, especially when compared to traditional metal braces. There's plenty to love about Invisalign, and you'll soon find out why. At our office in Concord, NH, cosmetic dentists, Dr. Albert Binder, Dr. Victor Stetsyuk, and Dr. Christopher Binder, can give you the smile you've always wanted using Invisalign. Are you ready to give yourself the smile you've always wanted using the most revolutionary teeth-straightening method in the industry? Say hello to Invisalign!

Invisalign Can Do Wonders for Your Smile
Take a look in the mirror. What do you see? If you're concentrating on the lack of alignment your smile has, it may be time to look into revolutionary treatment with Invisalign. The unfortunate truth is your teeth will either stay in their position or get worse if you don't do something about it. There are multiple problems you have to face when your smile is out of whack. For starters, it's next to impossible to floss because the spaces in between your teeth are so tiny. In addition, brushing can become problematic as some surface areas of your teeth cannot be properly cleaned. All of this can add up to an unfortunate situation.
Invisalign can be the breath of fresh air you've needed all along. It can improve your confidence in a major way, too. Proudly showing off a beautiful smile that's as straight as an arrow would make anyone's confidence blossom. Invisalign can help you achieve a smile that is out of this world.
Invisalign offers many benefits:
Appearance: What's not to like about clear aligners? Nobody will have the slightest idea you're receiving treatment. Think of it like a secret spy doing his/her job under a cloak of secrecy.
Safety: Prickly wires and jagged metal sounds like a good time for your mouth, right? WRONG. Invisalign's plastic clear-braces technology is designed with your safety in mind.
Comfort: You know what you can't do with metal braces? Take them out whenever you'd like. You can do that with Invisalign, so enjoy your favorite foods (watch the sugar intake) whenever and wherever you'd like!
Span of Treatment: Metal braces can keep you locked in for five years. With Invisalign, treatment is slashed more than half, with average treatment times ranging from 1-1.5 years.
Visit our Office To Get The Smile You Deserve
What's not to like about Invisalign? It can do everything metal braces can, only more efficiently and with your complete comfort in mind. If you're looking for a reputable dentist Concord, NY goes to for straightening treatment, look no further than Generations Dental Care. It doesn't matter how far away you live, we'll serve everyone. That goes for all of you in Chichester, Pembroke, Allenstown, Suncook and beyond.