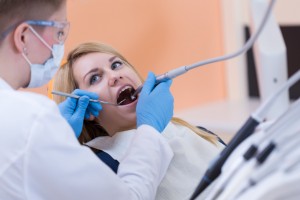 A toothache is something that sometimes can't wait. Depending on a patient's pain threshold, time is of the essence. Toothaches can vary in pain level with more severe pain being felt with teeth that have become overrun with disease. The main culprit? Cavities. A majority of people will go through life having at least one cavity, though there may be others that deal with multiple cavities. A cavity should be taken care of immediately for many reasons, but mostly because it helps keep the disease from spreading and resulting in an infection.
Our root canal service in Concord, NH is gentle and will aim to try and save a problematic tooth. Our team of dentists combined with an expert dental staff help form one of the most experienced dental practices in the area. If a cavity has deeply embedded itself into one of your teeth resulting in mild-to-severe pain, it's time to get it taken care of. Root canals can help bring harmony and comfort back to your mouth, not to mention restore your oral health back to normal. We have the dentists Concord residents can trust.

Cavities Can Wreak Havoc On Your Teeth
Tooth decay is a problem that should be addressed. Tooth decay is often removed during your morning and evening brushing and flossing routine. However, there could be a cavity that formed even if you were practicing great dental hygiene. A cavity is the result of tooth enamel that has been overtaken by tooth decay, therefore slowly deteriorating the tooth's structure. If left untreated, the decay burrows itself into the tooth where extensive damage takes place. The best time to visit us for a root canal is when tooth pain has become so excessive that your overall health is suffering. Chronic headaches, migraines and more can all be associated with tooth pain that won't subside. This is most often the sign that a cavity is deep in your tooth and needs to be addressed.
If the damage isn't excessive, a composite filling is the only procedure that is needed. Most of the time, however, a cavity has run its course to the point where a root canal is necessary. Dr. Christopher Binder, Dr. Victor Stetsyuk, and Dr. Albert Binder can help preserve a tooth and keep the surrounding area disease-free. Once considered among the most painful procedures, technology has advanced such that it's now done in a virtually painless way. A
What happens during a root canal procedure? You're about to find out.
What Does a Root Canal Entail?
Below is the step-by-step process for a root canal. The goal is to save the tooth and help keep the surrounding tissue healthy. There's a reason this procedure falls under restorative dentistry – it helps restore the infected tooth and gets your oral health back to normal.
The tooth and area around the cavity is numbed.
A dental damn is placed in the mouth to isolate the problem area and keep the gums protected.
The infected pulp is carefully removed.
The infected tooth is completely cleaned.
The canals are reshaped using special dental tools.
The open area is filled with dental material.
You'll be given a temporary crown to help keep the tooth protected.
After three weeks, a return appointment is required for permanent crown placement.
You'll be amazed at the results, especially the overwhelming lack of tooth pain you'll experience.
Schedule a Root Canal Today
Don't let extensive tooth pain make your life a living you-know-what. Get it taken care of at our office and start living life pain-free. Anytime there is tooth pain, you should consider coming into our office for treatment. A cavity is no laughing matter – root canal therapy can bring harmony back to your oral health. Enjoy high-quality root canals, Concord, NH!