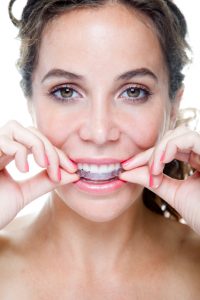 Your smile says a lot about you and how you feel about yourself. However, most of us aren't born with a naturally straight smile. Not to mention, the appearance of our smiles can be further impacted as we age and due to lifestyle factors that cause discoloration. Now, you don't have to live with crooked, discolored teeth. You're able to transform your smile with Invisalign in Concord NH. After your treatment, professional teeth whitening is the perfect final touch for a stronger, brighter smile.

Cosmetic Dentistry for Invisalign in Concord NH
With cosmetic dentistry, you can now straighten your smile using Invisalign. Invisalign is among the most advanced dental technologies that allows you to correct the alignment of your teeth in less time than traditional braces. Not to mention, Invisalign is nearly invisible—making it the preferred option for teens and adults.
Invisalign involves the use of custom-made aligner trays that are created in a series. The clear trays are worn over the teeth, gradually moving the teeth into the correct alignment as you progress through each tray in the series. You'll wear the trays for an average of 12 months, switching to the next tray in the series about every two weeks right from the comfort of your own home. This means less trips to the dentist because you won't need adjustments made like with traditional braces.
Clear braces offer many advantages when compared to metal braces. In addition to a discreet and faster treatment, you'll enjoy added comfort. Since no wires or brackets are used, there's no tugging or pulling on the teeth. Plus, there's no irritation to the cheeks or gums. The lack of wires and brackets also means you have less restrictions. You're able to eat what you like during the treatment and oral hygiene is easier. You don't have to brush around wires or brackets. Simply remove the trays and care for your teeth as usual.
Brighter Smile with Teeth Whitening in Concord NH
After you've finished your treatment with Invisalign in Concord NH, add the final touch to your new smile with professional teeth whitening. Our KoR Deep Bleaching and Zoom! Teeth Whitening systems remove tough discoloration from your teeth for a brighter smile. Using high-grade whitening agents, we'll reverse the signs of discoloration from age, food stains, and tobacco use. Or, if you prefer, we also offer an at-home whitening kit. The at-home kit includes custom-fitted trays and professional grade whitening gel to brighten your smile.
Get a New Smile Today!
Generations Dental Care is your cosmetic dentist for a stronger, brighter smile with teeth whitening and Invisalign in Concord NH. Get the drastic results you've always wanted using clear braces and professional teeth whitening.
Although Invisalign and teeth whitening are safe and effective, not everyone is a candidate for the treatments. To determine if Invisalign and teeth whitening are right for you, please call our office at (603) 225-6331 to schedule a consultation. We're here to see you smile with straighter, whiter teeth.