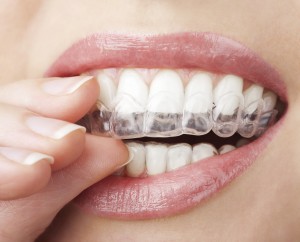 There's so much to smile about during the day. A smile for the barista who gives you your coffee in the morning. A smile for the colleague who compliments your work. A smile for the kids when you pick them up from school. A smile, well, just because. However, if you tend to cover your mouth when you smile because you're embarrassed by your crooked teeth, then having a lot to smile about may not matter as much. What if you could straighten your teeth in about a year and be able to smile openly throughout the process? With Invisalign®, you can. Invisalign clear braces from Generations Dental Care in Concord, NH, will give you another reason to smile.
Whereas traditional braces use metal brackets and wires to move teeth into position, Invisalign uses clear plastic aligners. Made of smooth, BPA-free plastic, these braces are hardly noticeable by you or anyone else. You won't be bothered by the abrasions and gum soreness that metal braces can cause, and the people you meet might not even realize that you're wearing Invisalign clear plastic aligners.
Furthermore, Invisalign aligners are removable. So, even though your dentist at Generations Dental Care will want you to wear your aligners for the better part of the day every day, you'll be able to take them out for meals, brushing and flossing your teeth and for that occasionally special affair.
Invisalign Treatment
Based on a 3-D model of your mouth, your Generations Dental Care dentist will develop a treatment plan that the Invisalign lab will use to produce your aligners. You'll wear each set—one for your upper arch and one for the lower—for about two weeks and then progress to the next set. As you move through your sets, your teeth will begin to move, too. When treatment is complete, your own smile will be one more thing to smile about.
Call Our Office Today
If you're ready to smile about straight teeth with Invisalign, call Generations Dental Care.  We serve patients in Concord, NH, as well as from Penacook, Bow, Canterbury, Chichester, Pembroke, Manchester, Hooksett, Boscawen, Epsom, Hopkinton and Loudon.